An Intranet Designed For You
Built by intranet experts, hubley delivers company news, events, alerts, and business
process applications in a beautiful interface that intranet users will want to use.
Designed for Productivity
hubley keeps everything your team needs in one central place that's easy to access from anywhere, at any time.
The Social Intranet is the new place for you to engage your team with interesting content and internal marketing. hubley makes it easier than ever to share  great content across your  organization.
More people are working remotely than ever and the number just keeps growing! hubley helps your team get the tools they need wherever they may be.
We custom build our platform to the needs of your team and also provide things like LMS, Analytics, Ticketing, and Onboarding to help you and your team communicate and reach your goals.
Out-of-the-Box Solutions with Wicked
Fast Implementation.
Inside of SharePoint and Microsoft 365, our solutions provide full-featured communication
and collaboration capabilities... and did we mention: it's wicked fast.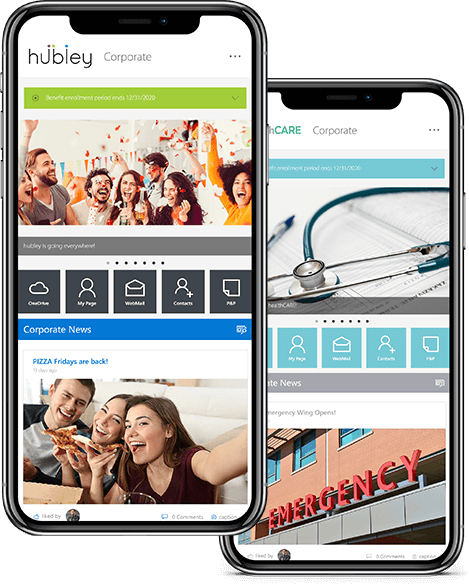 Mobile

Innovative and productive employees work well beyond the constraints of a 9-5. Field technicians, remote employees, your sales force. hubley is designed with native mobile technology. No more tap, zoom, tap, zoom. It works just like an app on your mobile device.

Fresh

We built this relationship to last. Forget intranet reboots every other year. With our hubley green program, updates every few months guarantee your intranet will always look fresh and feel modern.

Secure

Unlike many intranet-in-a-box solutions, hubley has been designed with enterprise-level security in mind. Our experts work with you to customize your security settings, so your team only has access to the data they need.

Beautiful

Getting your intranet live couldn't be easier. We ensure your brand standards and corporate identity are embedded in your intranet with an intuitive, navigable, and beautiful user experience.

Configurable

We built hubley with every user-friendly trick we could think of, making configuration super easy. You will love the easy setup and configuration of each feature, we guarrantee it and cannot wait to show you!!

Flexible

100% perfect for your Office 365 or SharePoint server ecosystem with the classic functionality your teams are used to and new features that create a modern experience. And new apps and modules can be tacked on in a breeze. Cozy up to your evolving digital workplace.

Intranet That
Grows With You
The hubley GREEN program keeps your intranet fresh.
With GREEN maintenance, you choose your favorite new hubley features, quarterly.
From productivity to personalization, our GREEN roadmap gives you lots of room to grow.
With little to no downtime, we plant the enhancements, and you're an intranet hero.